What to Wear to a Summer Wedding: For Men!
Ah, summer, the time when love is in the air. For boutique clothing online and in-person, summer also marks the start of fashion season for men and women. The passion of summer manifests in these two distinct ways (love and fashion) to give everyone the opportunity to find something amazing to wear to a wedding.
However, for those looking for a bit of extra fashion support for an upcoming wedding, the answers aren't always immediately obvious. No, sometimes you may need a bit of advice and support to make proper wardrobe decisions. That's just what the information about boutique clothing online provided below will provide you with, so let's not delay!
Actually, a word of caution before we begin may be necessary. Some articles on the subject insist on giving you an excessive amount of information about what to wear, which may be good for some. It isn't for us, so instead, we've provided information that will help you make straightforward and actionable choices. Enjoy!
Suits
Materials
You're likely going to wear a suit to any wedding except the most casual affairs, so best to accept it early. Don't choose wool as you'll start to sweat just getting it on, and instead, opt for linen or cotton. These lighter, breathable fabrics will help keep you cool, as will leaving the jacket at home or on the back of a chair if you're worried it will cool off during the night.
Colours
Since you'll be wearing a suit anyway, the chances are that any of the following colours will make you look stylish and suave, but just in case, prefer these colours at weddings:
Navy

Gray

Cream

Khaki

Beige

Tan
Bingo bango, find some pants in one of those colours and you're almost set. The shirt you wear should be white, as it is timeless, straightforward and a clear flex of your ability to keep foodstuffs off your clothing. If you can find a matching vest, go for it!
Accessories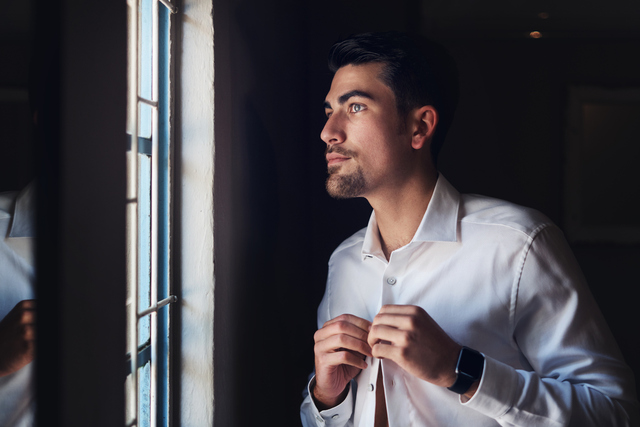 Ties
To be honest, tie fashion is overdone in most circumstances. Much like YouTubers, you get way more mileage from something flashy or showy than you do tasteful and carefully selected, so don't be afraid to bust out that light-up Christmas tie you got as a gag gift. Or, you know, just find a colour and simple style that matches your pants if you want to be conservative.
Jewellery
Don't overbling yourself. A nice watch or simple necklace is all that really matters, or a pocket square if you want an attractive splash of colour.
Belts
Standard black leather, much like our white shirt, is a timeless aesthetic that pairs with just about everything. Avoid the stretchy, studded, styled or other silly aesthetics that more casual belts may have.
Footwear
If you hadn't noticed, our online boutique clothing fashion suggestions for men at weddings focus primarily on comfort over style or societal norms, and footwear is where this mantra is most important. Find comfy shoes that look good and never take them off. If that advice is too general, consider these (ordered from best to worst) shoe types:
Loafers

Brogues

Oxfords

Derbies
Try to match the colour to your pants, or just choose a rich brown colour. Avoid laces in most situations for a simpler, easier-to-wear look that will be sustainable throughout a day of standing, dancing and socializing. Oh yeah, don't forget to have an amazing time and celebrate the union of lovers!