Trip To Lisbon: 8 Activities To Enjoy When You Are In Portuguese Capital
Welcome to Lisbon, city of the seven hills, birthplace of fado and the much acclaimed pastel of Bethlehem!A city that, due to its geographical position, always kept its eyes on the outside. A city of navigators and travelers who, yesterday and today, left everything to start discovering new worlds and new opportunities. And therefore, a city marked also by the nostalgia of farewell and by a very Portuguese feeling: the"saudade".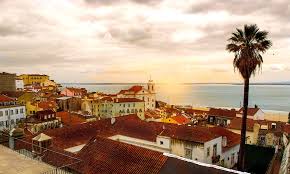 Here we leave you 08 activities to do in Lisbon, which will help you to understand a little better the particularities of this beautiful city, which leaves no one indifferent!
A walk in the Electric 28
It is one of the icons of the city and one of the best ways to get to know Lisbon.
Tip:  Beware of pickpockets! Opening hours are from 7:00 a.m. to 9:55 p.m.
Climb to the Castle of St. George
Sit on a terrace and enjoy a good wine and the fantastic views over the city…
Suggestion:  In addition to the sights and the Castle, you can also visit Camera Obscura and the remains of the Old Royal Palace of Alcáçova. São Jorge Castle is open from 9 am to 9 pm from March to October, and from 9 am to 6 pm from November to February.
Visit to the Flea Market
And let yourself be seduced by the antiques and second-hand relics that can be found here.
Suggestion:  The fair is "open" on Tuesdays and Saturdays and does not have a fixed schedule. Thus, during the summer, the time is from 6:00 am to 5:00 pm. While in winter, the time is from 7:00 am to 3:00 pm but it can always vary a little according to the weather
If you really planning to visit this city book cheap flights to Lisbon from London & across UK.
Enjoy a delicious Bethlehem cake
The most famous sweet of Portugal. We recommend the "Pastéis de Belém", founded in 1837.
Suggestion:  The factory is at Rua de Belém nº 84. If you plan to go with friends, it is possible to book groups tables online.
Enter the Metro of Lisbon and let go without direction
Go from station to station and you will discover authentic underground artworks
Tip:  Olaias metro station was considered one of the most beautiful in the world … Well worth a visit!
Dedicate a meal to cod
It is one of the star ingredients of Portuguese cuisine. There are a multitude of recipes and ways to prepare this type of fish
Suggestion:  You may want to book more than one meal for cod … We recommend cod and cod-a-braz.
Go shopping at Chiado warehouses.
Spend an afternoon shopping in this historic building totally destroyed in a fire in 1988 and now converted into a modern shopping center.
Suggestion:  If you pass through Armazéns do Chiado in December at night, the Christmas lights give another charm to this site.
Attend a fado show at Mouraria
To understand the essence of the country and the city, you have to go to the Mouraria neighborhood to hear fado. The melancholy of this neighborhood was the origin of this musical style so typically Portuguese.