Mobile Applications in Retail Increasing Customer Experience with AI
Majority retailers are trying to create cross-channel experiences for their customers by taking advantage of digitalization. The key formula to create a successful digital shopping experience is personalization of shopping choices, automation and unique identification of a customer across different shopping platform.
With the help of Artificial Intelligence (AI) mobile applications for retailers are being developed to increase operational efficiency and increase revenue by unlocking new opportunities. To maintain a healthy competition retailers are taking benefit of these technologies to personalize their web and mobile applications for enhancing user experience and generating more revenue online.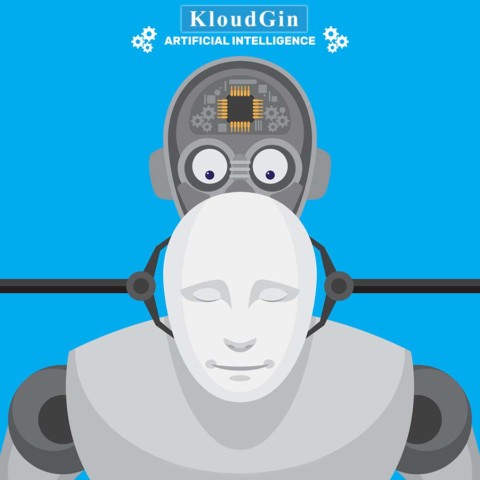 Your customers don't want to wait hours for service. With KloudGin's Connected Customer App, they don't have to.
Artificial Intelligence (AI) is taking the retail industry one step ahead by bringing automation. It is helping mobile apps for retail businesses to generate sales through insights into consumer behavior and enabling them to offer accurate personalized shopping advice to customers.
As millennials and generation Z consume a bigger share in contributing towards revenue generation, this cognitive technology also helps to maintain freshness for brands. To appeal their younger audience companies are building connected experiences between online and offline. For example, an AI-powered app created by Neiman Marcus allows customers to click pictures of anything they like on their cell phones. The mobile app will then display similar items from their store's inventory.
In this highly competitive environment Artificial Intelligence (AI) gives a cutting edge to beat their competitors by offering various options to amp their customer's experiences both in form of a walk-in store and online.
Artificial Intelligence (AI) in Retail Operations
Through machine learning, Artificial Intelligence (AI) automates decisions, it enables computers to observe and learn from huge data sets and make decisions without human intervention.
To understand consumer data Retailers use Artificial Intelligence (AI) to analyze shopping behavior, optimize their customer approach and to anticipate consumer demand.
Artificial Intelligence (AI) in retail provides 3 major applications: –
Personalization – (AI) powered mobile applications in retail are providing new and improved shopping experience by providing smarter, more personalized, predictive messages and offers on to customers based on their purchase and browse history.
Round the Clock Customer Service – Chatbots has made it possible to chat 24×7 to improve customer experience through one-to-one chat. Famous platforms like slack, WeChat, WhatsApp, Uber are great examples.
Customer Insights – (AI) Artificial Intelligence has increased the market's appetite for data. With the help of Machine Learning large sets of data are being trained for creating deeper contextual marketing insights and empowering retail marketers to include deep product catalog insights, location data, and automatic inventory management.
Artificial Intelligence (AI) is constantly assisting retailers to connect personally with their customers in new ways. According to a survey carried out by the specialist publication Retail Week and Retail Tech Company, Qubit published reports in 2017 that said, around 38% of companies have already implemented Artificial Intelligence (AI) to their business operations and 48% are currently using Machine Learning.
Competitive Retailers are acting fast in deploying an adoption strategy for IoT technology in their mobile applications as well as websites. Given the rate at which retail industry is progressing Artificial Intelligence (AI) will play a critical role in increasing the personalized retail experiences for customers. It can really transform the way we shop online as technology continues to grow and evolve customer's expectations making it demanding for retailers to invest more in the services that they offer to meet the ever increasing tech savvy shopper's needs and demands.