Learn More About Shave Ice in Maui HI
You Foods and Drinks You Should Try in Hawaii
You have probably heard about shaved ice, which is one of the most popular desserts in Hawaii. It features shaving blocks of ice combined with fruit syrups. It is simple to make it and enjoy it wherever you are.
Still, when you decide to go to Hawaii, you can enjoy various foods that will provide you with amazing taste and feel. Generally, the Hawaiian archipelago combined with eight main islands features extensive coastlines and beaches. At the same time, it is an amazing place to enjoy the sunshine and try local delights that will make you feel amazing.
It is vital to enter here to understand everything about Hawaiian meals and dishes. While on vacation, you will enjoy amazing meals that will get you closer to the culture and area altogether.
We are talking about dishes that are unique to Hawaiian cuisine. In the further article, we will explore the most popular Hawaiian drink and food options you must try when you decide to visit. Let us start from the beginning.
1.Poke
Both visitors and locals enjoy this dish because it is rich in simple and tasty ingredients. Most options feature tuna meat chopped into small cubes that you can combine with soy sauce, lime seaweed, sesame seeds, and onions.
In some cases, they will substitute other freshwater fish or you can implement seafood inside such as octopus. The best thing about this dish is that you can enjoy it wherever you are, but the tastiest options you can find while in Hawaii.
Lomi Lomi Salmon
Although raw fish is not interesting to some people, you can enjoy this dish because it uses specific techniques that will provide you with additional enjoyment. Instead of leaving you the rawness, they will treat salmon with salt and massage it gently, over, and over and combine everything with hot peppers, tomatoes, and onions.
As a result, you will achieve the overall flavor combination that will provide you with satisfaction, especially if it is your first time eating raw fish.
Poi
You have probably heard about a taro root, which is like a sweet potato. The best thing about it is the chance to form the basis of this side dish. You can steam or bake the taro and pound it afterward. As a result, they will combine it with water until it forms a delectable and thick paste.
The way you decide to eat it depends on your preferences. You can use it as a shredded pork addition, or combine it with lomi lomi salmon. Some people use it as a dipping sauce. In all situations, you can choose the best course of action.
Watch this video: https://www.youtube.com/watch?v=TsWxJHP0044&ab_channel=TheCoconetTV to learn how to make Poi.
Lau Lau
If you wish to enjoy Hawaiian delicacy, we recommend you choose another dish that includes a taro plant. Lau lau takes advantage of a large taro plant you can leave wrapped around a fish or pork.
The main idea is to combine the concoction and place it into the underground oven. After a few hours of slow cooking, the tender leaves will combine with smoky meat, meaning you can enjoy it with your family members and friends. This option is perfect for large gatherings, or if you decide to make an intimate meal with a partner.
Kalua Pua'a
When it comes to this dish, you should know it features slow-roasted pork you place in the underground oven. As a result, the meat will fall off the bone and be tender and tasty throughout the course.
The wood smoke you can use in the oven will offer you a strong flavor without the need for additional ingredients. You can add rice inside to enjoy the perfect taste that will stand the test of time.
Shave Ice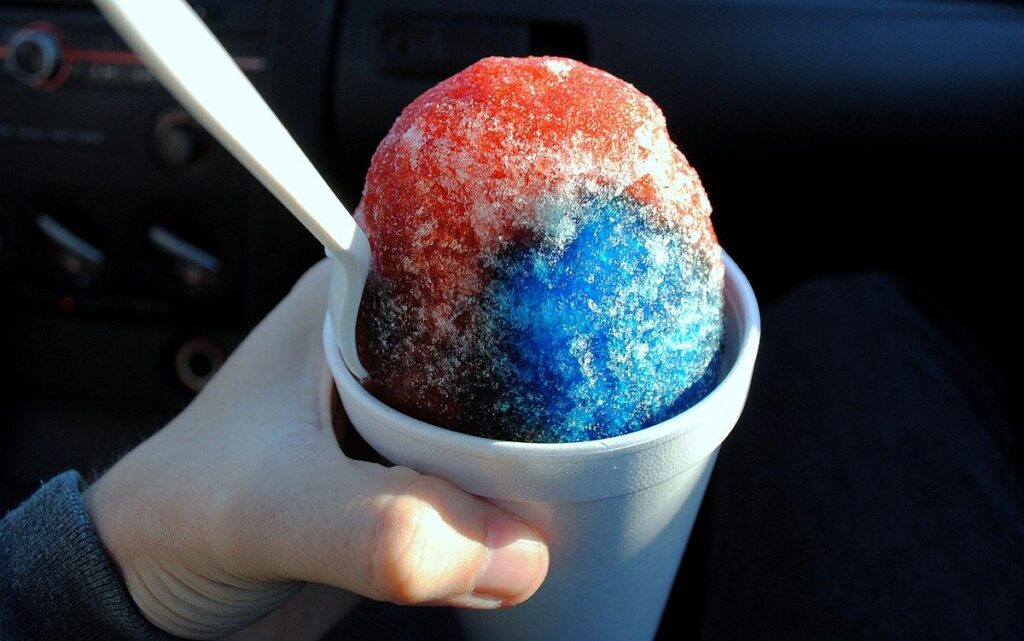 When it comes to dessert, you should try shave ice, which features a significant block of ice combined with syrup and other ingredients. Some people call it ice shave. When we compare it with a snow cone, which is a US dish, you should know that shaved ice includes thick shavings so syrups can enter inside instead of sinking.
You should know that it is a perfect solution that came from a similar dessert from Japan that includes almost the same preparation method. They serve it in a plastic cup or conical paper and combine it with different syrups of your taste over the top.
The most common ingredients are coconut cream, guava, pineapple, li hing mui, passionfruit, kiwifruit, lychee, and mango. Although you can find different ice-based desserts in other countries, we recommend you try shaved ice the moment you step into the Hawaiian ground.