HR Technology Trends for 2018
Over the recent years, the industry of HR is continuously reshaped and redefined by augmented reality, the blockchain, artificial intelligence, and predictive analysis software.
First and foremost, artificial intelligence (AI) will be shaping the landscape of human resources and organizations as well. For example, intelligent systems would start learning how to adapt to the requirements of the users. AI has already started learning about individual roles, actions, and behaviors in order to exemplify how we use HR and other components.
The massive wave of progress will disrupt the HR technology along with changes in the way HR work and the organization is being managed.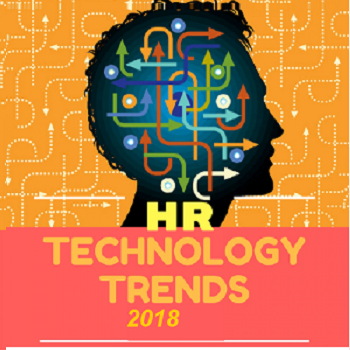 Let's take a deep dive into the top trends in HR technology:
According to Gartner, Blockchain holds promise for HR professionals who are looking for ways to verify applicants seamlessly. This technology can help the payroll managers in making the global compensation process cost-effective and on time. An encrypted digital ledger is being used in blockchain which is then scattered into several networks. A blockchain is a strong tool that everyone finds well founded and easy to use. Within the next 24 months, HR professionals will begin using blockchain.
Have you ever thought that Internet of Things (IoT) would become important for HR professionals? Internet of Things (IoT) provides lots of potential for workplace disruptions and gains especially in 2018! But what can you expect from IoT? Well, with plenty of data from the employees' wearable, the HR professionals could focus on having a more efficient and friendly workplace environment by better productivity, effective communication, travel trends, and team guides to work together. Employers are looking for more interesting and fun ways to use the employee-driven IoT technology to improve the process and solve work-related problems. This would create quantified employees, driven by the focus on wellness, and productivity! IoT has also improved existing products by putting new components and services.
There will be a rise of conversational platforms such as Alexa or Siri. Within the HR department, such applications can be applied to enhance the customized service for employees by talking to the team. Tools like this will definitely become the next paradigm shift in how we are interacting with the world and in the realm of HR talent management.
Nowadays Blockchain Technology companies are taking help of AI practices for making intelligent apps such as virtual customer assistant and bot to enhance the employee experience, sales, performance, and marketing analysis. The intelligent apps can change the nature of workplace by working on its structure. While creating an AI-powered app, think about its impact to improve the experience of the user.
Digital twin technology means having a digital replica of any product, service, or process. But it is not a replacement for the product, service, or process. With the help of the digital replica, you'd be able to monitor the object without being in close proximity. In IoT projects, this disruptive technology can help in better decision-making by improving the operations in HR talent management. It provides visibility to specific business outcomes. Companies who are looking to get ahead of the competition must consider the usage of a digital twin.
Feedback, engagement, and analytic tools are in the picture for HR talent management. Nowadays, it has become a major norm to have real-time surveys, sentimental analysis, and organizational analysis to have a real-time evaluation. Open feedback tools are being appreciated as growth is one of the major concerns both for the employers and employees. There's an explosion of new ways to have transparency and benchmarking tools to find the worth of an individual via open feedback. This has been very promising for the business rather than the annual evaluation or performance review which is rather obsolete now!