How Often should you Clean Windows?
Keeping your windows clean can be one of the best things you can do to make sure you are keeping up with the details of clean living space. Unfortunately, it can also go forgotten until it is an emergency, meaning that you have spent the last month or two with progressively-filthier windows that both ruin your view, and subtly make your home look messy.
Knowing how often you should clean your windows will avoid that terrible moment when you realize you have let this go for way too long, and instead will keep your glass sparkling, clear, and presentable at all times of the year.
Cleaning Your Windows
According to a report by Good Housekeeping, you should be deep cleaning your windows once a year. What does a deep clean entail? If you are going for a truly deep clean, this means the inside and outside of your windows, as well as your screens.
You should also be giving your windows a quick clean inside and out at least every six months. This just means hitting them with a glass cleaner and paper towels to make sure that there isn't a significant residue buildup. Rainy seasons, dry seasons, or smoggy areas like if you live in a city will make the grime build up on your windows faster, so you may need to give the windows a quick wipe more often depending on your location.
Window Cleaning Techniques
Here are some techniques for cleaning your windows. Let us know if you have any other ways that work for you! Look at the owner's manual for your own windows to be sure you know how to open them for cleaning. Never force your windows open in a direction they do not want to go, or you risk breaking the glass or warping the window frames.
Maintenance Cleaning
For quick cleaning, hit your windows with glass cleaner, and wipe down with a newspaper. If your windows open inwardly for quick access to cleaning, this will make your life a lot easier, and keeping your window panes clean a more-realistic endeavor.
If you don't want to take a full day (or weekend, depending on your home) to simply wipe down your windows, try to rotate the windows across weeks so that you have done a full circuit after six months.
Deep Cleaning Your Windows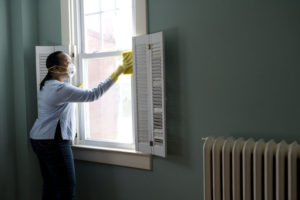 When it's time to deep clean your windows, prepare yourself for a project. When you are deep cleaning, not only will you be wiping down the glass – you will be removing your screens, soaping and brushing them out, as well as scrubbing the corners and seams of your window to combat algae and grime from building up.
If this doesn't sound like your idea of a good weekend, check out companies that offer window cleaning in Los Angeles like Letys Cleaning Service. It frees up your weekend, takes the stress off of your plate, and let's be honest: they will probably do a better job than you.
How To Open a Window For Cleaning
The specifics of your window will vary depending on the manufacturer, but nearly all modern double-hung windows have a mechanism that allows you to tilt the window inwardly for cleaning. If this is the case, you will be able to get access to both panes of your window for easy cleaning, and can even maneuver your screen through the window to clean that as well.
If your windows do not open inwardly, you may need to consider using a ladder to get access to the outside of the panes to keep the glass sparkly and see-through.