How Android Apps Can Benefit ECommerce Industry
Advancements in the communication domain are one of the major reasons for the upsurge in the number of smartphone users worldwide. Various industry sectors have taken this aspect into consideration for promoting business and enhancing brand value, and thriving E-Commerce sector is no exception.
E-Commerce sector is a vast sector and needs a suitable mobile platform for reaching a greater audience to get the most from the rising number of mobile users. Android app for e-commerce is, therefore, gaining more traction than the website of e-commerce stores. Mobile apps are certainly more engaging and it is observed that nowadays, people shop more using the eCommerce Android apps. Mostly people engage themselves with the eCommerce apps when they are waiting or traveling.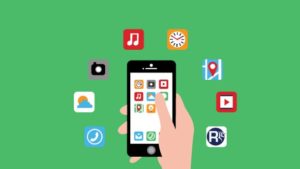 Here are certain ways through which business android apps can fulfill your customers' requirements and benefit the eCommerce industry.
Easy download & Swift navigation:

An android app for e-commerce store should not take more than 3 seconds to load. With the easy, quick navigation and download feature, it can be the choice of numerous customers just in a few days.

Leverage push notifications:

Depending upon the frequency, the push notifications can be the best functional feature for your business android app. With an adequate number of push notifications, you can remind your clients and customers about the launch of new products, sale or promotional offers. It will increase the brand awareness and keep your customers updated. But then, it is dangerous to provide the overdose of push notifications.

Geo-targeted promotions:

Using the custom Android apps, you can trace your customers' current location and can notify about the products and services available in their vicinity. As an e-commerce retailer, you can customize your android apps to display the smart ads targeting consumers on the basis of their current location.

24*7 access to the customers:

One of the major benefits of e-Commerce applications is to offer a round-the-clock access to the customers. It facilitates your customers to get information for any of your products from anywhere, anytime.

Cost and variety comparison:

Tailored business Android apps enable you to compare features, cost and timely availability of the product from different sellers across the world. Such apps also enable your customers to get the convenient and hassle-free shopping experience, which ultimately brings profit to your business.

Best marketing strategy:

As an entrepreneur, you always want to grow your user base with loyal customers. It can create the atmosphere of trust and loyalty among your prospective customers. To achieve this, you need a highly effective marketing strategy. Android apps are the best marketing tools as they offer better opportunities to connect, engage, and share the views about products over various social media channels. An Android app also allows your customers to shop from the remote places, even when desktop or laptop is not accessible.
Android OS enjoys a dominance on the mobile platform for a long time. Features and functionality of customized Android apps are fit for every industry vertical, but B2C (Business to Customer) businesses can get the most from increasing Android phone users globally. E-commerce industry can target a huge audience through tailored Android apps with engaging features.