Essential Points to Consider While Choosing an Enterprise Ecommerce Platform
Ecommerce has surely attracted millions of customers throughout the globe. Choosing a feature-rich ecommerce solution for your business is not always an easy task as the needs and demands of ecommerce market keep changing frequently. Enterprise ecommerce platform are the best options for merchants who have novel ideas and want to create a niche for themselves in the online selling sphere. Ecommerce has made tremendous growth in India in the recent times. Statistics tell that, the ecommerce sales revenue in India has increased by 24.8% in 2017 as compared to the previous year.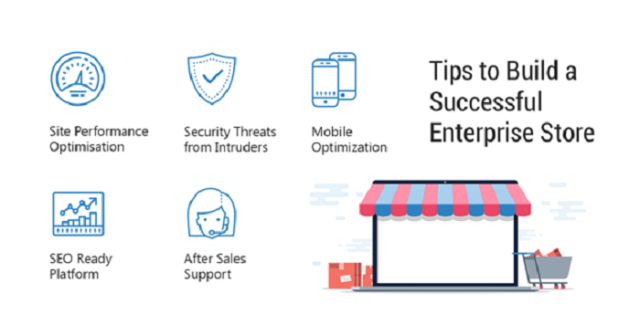 So what does an enterprise ecommerce platform do?
Common belief implies that if you need a custom solution for your large scale business, you need to hire a dedicated team of developers to build your system from scratch. This is natural, as most of the turnkey solutions are rigid and fail to accommodate the specific requirements of enterprise level online businesses.
However, building a large online store with complex requirements becomes a time consuming task for a team of developers who do it from scratch. In the fast paced ecommerce world, investing too much of time can result in lost opportunities.
This is where you need to consider a well rounded ecommerce solution that has the capability and features to fit in the custom flows of an enterprise business. An ecommerce platform that can save your time and offer a flexible solution where you can tweak the platform to add custom entities for your enterprise solution is the ideal fit for an enterprise business. The enterprise ecommerce platform should be offering the dual benefits of a turnkey solution blended with customization abilities that allow tweaking the platform inside out.
How to select the apt solution for your enterprise business?
The process of selecting a platform needs to be done after proper research and analysis as the success of the business depends on your decision. At times a small glitch can also have huge consequences and ultimately result in the sales of the online store. Problems such as slow load time, multiple steps for checkout, security issues etc can ultimately affect the ROI of the online store. Hence, making a wise decision is mandatory in order to overcome the same.
Here is a list of some essential points to consider if you wish to pick an enterprise ecommerce platform for expanding your business on the web.
Site Performance optimization-
You never know which customer would visit your online store in search of their favorite products. When the site takes too long to get loaded the customers are forced to wait whenever they click? The customer would prefer choosing some other online platform as the sites which take more than 3 seconds to get loaded are usually abandoned by the users. Therefore, an enterprise ecommerce platform that makes the most of the latest technology with page switch time and low latency should be considered while selecting a platform
Security threats from intruders-
If internet has multiple benefits but it also come with a number of threats. Making online transactions is a risky option at times as intruders are everywhere which makes security a pivotal issue. One basic expectation of customers is security when they share the information like credit/ debit card details and password. Enterprise ecommerce platforms that provide SSL encryption for security are highly recommended by ecommerce experts and should be prioritized by the customers as well.
Customers are likely to use their smart phones for shopping anytime and anywhere. The revenue generated from m-commerce is projected to reach 37.96 billion US dollars by 2020. Hence a mobile ready platform becomes a necessity for providing the most convenient way of shopping. Enterprise ecommerce platforms can provide benefits like customer satisfaction and better sales that is achieved by the function of building a mobile-ready platform as per the choice of users.
Almost all the customers take the help of Google search in order to search for the desired products on various shopping sites. Hence if your online store is not on the top results of Google, you can have a tough time in making profit. Enterprise ecommerce platforms that provide variety of marketing features and search engine optimization techniques is a necessity for bringing traffic to the online store. This can help the customers to buy the desired products and ultimately earn profit from the business.
– An easy to use platform is always a benefit but there may be certain instances where you need to know a little more. For activities like withdrawals, account management and technical understanding at some points, customer support becomes a factor that cannot be skipped. An enterprise ecommerce platform that provides total support to the customers in case of any queries is highly recommended by the entrepreneurs who have progressed in the ecommerce sector.
Some essential features
An important factor to consider as there may be numerous users shopping from your store is scalability. A scalable platform is also necessary to sustain any volume of products and users. Several users should be able to purchase and checkout smoothly
The ecommerce platform provider needs be flexible so that making changes or adding up new features according to the latest market trends becomes easy.
The best way to attract customers is by making them aware of the reviews of the customers who have used the products already. The enterprise ecommerce platform that you choose should provide the feature of product reviews.
A fully functional online shopping cart-
The online shopping carts which allow convenient checkouts are always prioritized. Ensure that the customers are able to easily pick their products and complete the checkouts.
Building an online store with the help of an enterprise ecommerce platform can be a good choice if you consider all the listed points. Skipping any of the mentioned points may have consequences which may ultimately affect the sales of the online store. Searching for one suitable platform from several options can again be a tough job to do. StoreHippo is an ecommerce platform provider which comes up with all the mentioned features. You can choose the free trial version to know about the platform better and build an online store of your choice.
Author Bio–
Binny Joseph is an ecommerce marketing strategist with 5+ years of experience. He writes extensively about the latest ecommerce trends and encourages people to take up the new ways to make their online business a better one. His articles regardingenterprise ecommerce platforms come from the rich experience of strategizing and handling online business across industry verticals.