A Brief Insight on Several Facts on Automatic Gates
Protecting our homes from intruders and thieves is our responsibility so we should do something which can keep intruders away from our main gates. Nowadays automatic gates are very popular among homeowners because they provide better security and protection from intruders. The primary purpose of installing automatic gates is to have automated control over access into secured areas. Most commonly, you will see that these automatic gates are used mainly at the entrance to a promise or any facility whether it is a manufacturing industry or even a large residential property. It may also be used in areas where vehicular access needs to be controlled off and on.
Apart from that, automatic gates are also used in the interior areas within a premise most commonly in the parking garages. This is done to separate the parking areas of employees from the public garage.
The Components
A complex device as it may seem to you, ideally, these automatic gates consist of two basic components such as:
The gate itself is typically a physical object that can move in and out or slide down its sides to block or open the gate opening. In most cases, the gates used in commercial applications are typically made of iron materials and have intricate ornamental designs in it. However, you may also find chain-link material used for the same purpose.

There is a gate operator that comes along with these automatic gates. The gate operators are usually electrically-powered and can be chain or gear driven and even of the hydraulic variant.
The Gate Options
Since its introduction, the automatic gates have come a long way. These are more efficient than before, and you will get different inexpensive options and types to choose from as compared to the past. These options are:
Sliding gates that can be single or double

Swinging gates having rising hinges to allow it open on a slope

Bi-fold gates

Solar-powered gates

Gates that come with smartphone apps to interact with the visitor through an intercom as well.
The keypad transmitters allow you to open the gate from a distance and at the same time provide added security to your premise.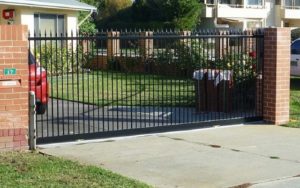 Who Should Install
Though you will get DIY kits to install automatic gates it is best to call a professional for such installation. There are a few things that you should take care of if you are handy with the tools and want to do a DIY installation. These are:
Posts: These must be deeply buried and well cemented in to prevent sagging of the gates and reduced functionality

Tracks: These must be installed precisely without any bumps in it to stop the gate abruptly and

Cabling: It must be properly installed to ensure proper electrical supply.
Lastly, make sure all parts must be sealed thoroughly to keep out insects out of the system.
Additional Things to Consider
There are a few additional things to consider installing automatic gates on your premises. Be specific about the purpose of installing it so that you can choose the right type of gate to serve your purpose. If it is for speed apart from security, then a vertical lift gate can prove to be better than the artistic double swing gates. If you want privacy along with security, then a get with wood slats is the best choice.
Make a proper budget according to your need. If you want to enhance the curb appeal and value of your property along with security and privacy, then you will have to shell out more dollars than for standard automatic gates.
Lastly, make sure you research a lot to find the best suitable gate for your premise and not finalize the get on which you lay your hands first. Also consider the width required, condition of the project site, the gate designs, verify the specifications, and compare few offers of different dealers to finally choose one.