5 Tips To Decorating Around A Television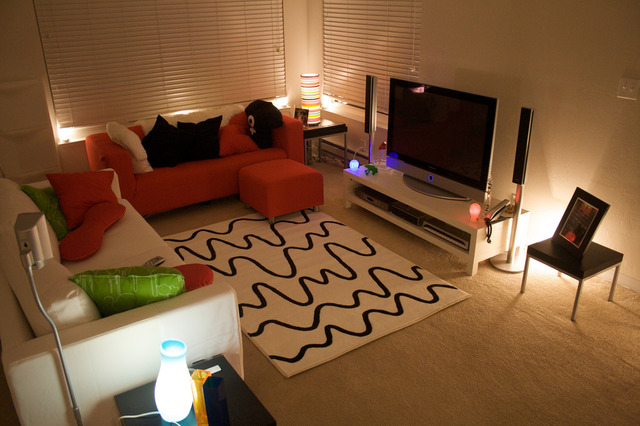 It is time to look at different things you can do around your television. Televisions are common across all family rooms in the country and that rectangle has so much to do with your design plans. It might seem complex to decorate around a TV but if you get it right, you will be able to change the way your living room appears. With this home design of the television, your task has become much easy and simpler. Here are some tips for decorating around the television.
Hide it
The easiest way of dealing with the television is to eliminate it. You can hide the television behind sliding doors or behind the artwork. Indeed, it is not a convenient solution but for those who spend minimal time on the television, it is the best solution.
Vintage Buffet as TV stand
Whatever your choice, whether you like to mount your television or put it on a piece of furniture, you can use a nontraditional stand to create an interesting point in the room. Try to look for vintage buffets which can be found at a cost which is much lower than a new TV stand and it will add interest to your room.
Open shelves
You can use decorative open shelves underneath the television and make space look attractive. You can use the shelves to keep the game consoles, remotes, and controllers.
Art and objects
One of the easiest tips is to decorate the space with art and objects. You need to ensure that the objects blend seamlessly with the decor in your home and become a part of the gallery wall you are making. Look at different televisions options offered at Flint Audio Video and choose the size that fits your room. You can surround the television with family photographs, collected objects, and artifacts. They can be placed in a symmetrical form or in a free-form around the room.
Put a frame
You can use a frame around the television in order to personalize the TV and ensure that it blends with the decor. You need to pick a frame that is larger than the size of the television or you could customize the same to hug the television for an organized look.
You need to ensure that the television is a perfect size for your room and for your use. Whatever the type of television or home theatre you are looking for, Flint Audio Video – Rhode Island will give you a wide choice in the same. A very large TV in a small room will look awkward and a small TV in a large room will make no sense either.
When you are spending your hard earned money on a television, ensure that you are making the right pick. You can use these tips to decorate around the television and to elevate the space. The rectangle can be portrayed in any manner you feel like. It is easy and simple to style.